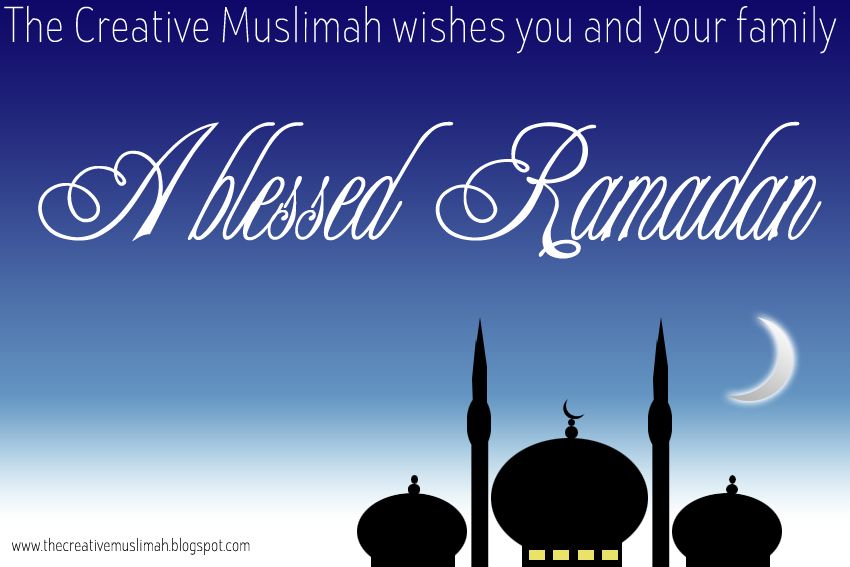 Assalamualeikum wa rahmatulahi wa barakatuhu and peace!
Ramadan kareem to all my muslim readers on behalf of The Creative Muslimah. :-)
May Allah make this the most positively life-changing Ramadan for all of us so far. May He accept our fasting, our prayers, our duah and our worship, ameen.
Today is the first day of Ramadan in most of the world, so happy fasting! Don't forget to eat suhoor and smile; it's sunnah!
It's funny, because usually people believe that Muslims become so lethargic and unproductive during Ramadan due to fasting, but I've personally experienced that I become much more productive during Ramadan!
Especially the first day, and I think it's because I realize how much time I normally use eating food., and so now that I don't eat food, I've got lots of time, alhamdulillah! :-)
And just to prove that it is NOT impossible to be productive during Ramadan, check out
Productive Muslim's awesome website. :)
The picture above is one of my latest Photoshop artworks which I made this morning. I was desperately trying to find a free clipart of a masjid/mosque, but I simply couldn't find one without having to make some sort of weird user on the different websites, so I drew my own masjid in Photoshop!
What do you think? I'm quite satisfied with the final result. It was kind of hard to make, but alhamdulillah, now I'm that much better at using Photoshop. :-)
Assalamualeikum wa rahmatulahi wa barakatuhu og fred være med dig!
På vegne af The Creative Muslimah ønsker jeg alle mine muslimske læsere en rigtig god Ramadan. :-)
Må Allah gøre dette til den mest positive livsændrende Ramadan hidtil for os alle sammen. Må Han acceptere vores faste, vores bønner, vores duah og vores tilbedelse, ameen.
Idag er den første dag af Ramadan i store dele af verden, så glædelig faste! Glem endelig ikke at spise suhoor og smil, for det er sunnah!
Det er sjovt, fordi som regel tror folk at Muslimer bliver dovne og uproduktive under Ramadanen grundet vores faste, men jeg har erfaret at jeg bliver endnu mere produktiv! Især den første dag, og jeg tror at det er fordi jeg indser hvor meget tid jeg normalt plejer at bruge på at spise, og nu hvor jeg ikke skal spise, så har jeg masser af ekstra tid, alhamdulillah! :)
Og som et bevis på at det IKKE er umuligt at være produktiv under Ramadanen, så check lige
Productive Muslims seje og informationsrig hjemmeside. :-)
Billedet foroven er mit seneste Photoshop projekt, som jeg lavede her imorges. Jeg prøvede desperat at lede efter et Royalty-free billede af en moské, men det var ikke så nemt som jeg troede, så jeg forsøgte at tegne en moské selv! Hvad synes i om resultatet? Jeg er meget tilfreds, alhamdulillah. :-)
Det var lidt svært, men alhamdulillah, nu er jeg blevet en smule bedre til at bruge Photoshop. :-)
Please don't forget me and all of our brothers and sisters in your duah!
Yours sincerely,
The Creative Muslimah
Glem endelig ikke mig og alle vores søskende i jeres duah!
Med venlig hilsen,
The Creative Muslimah